This is the place for Ayurvedic massage and sound therapy treatments to balance your mind, body and spirit. All my massage and sound therapy treatments are delivered from an Ayurvedic perspective based on my client's specific emotional and physical needs.
Curative and preventative. Ayurvedic treatments are tailor-made for your unique constitution and are designed with thousands of years' worth of ancient wisdom to maintain your body's optimal health and restore alignment. They soothe the nervous system, nourish the tissues, joints and skin, and bring the mind, body and spirit back into alignment. The positive effects will be enjoyed by your system long after your treatment has concluded.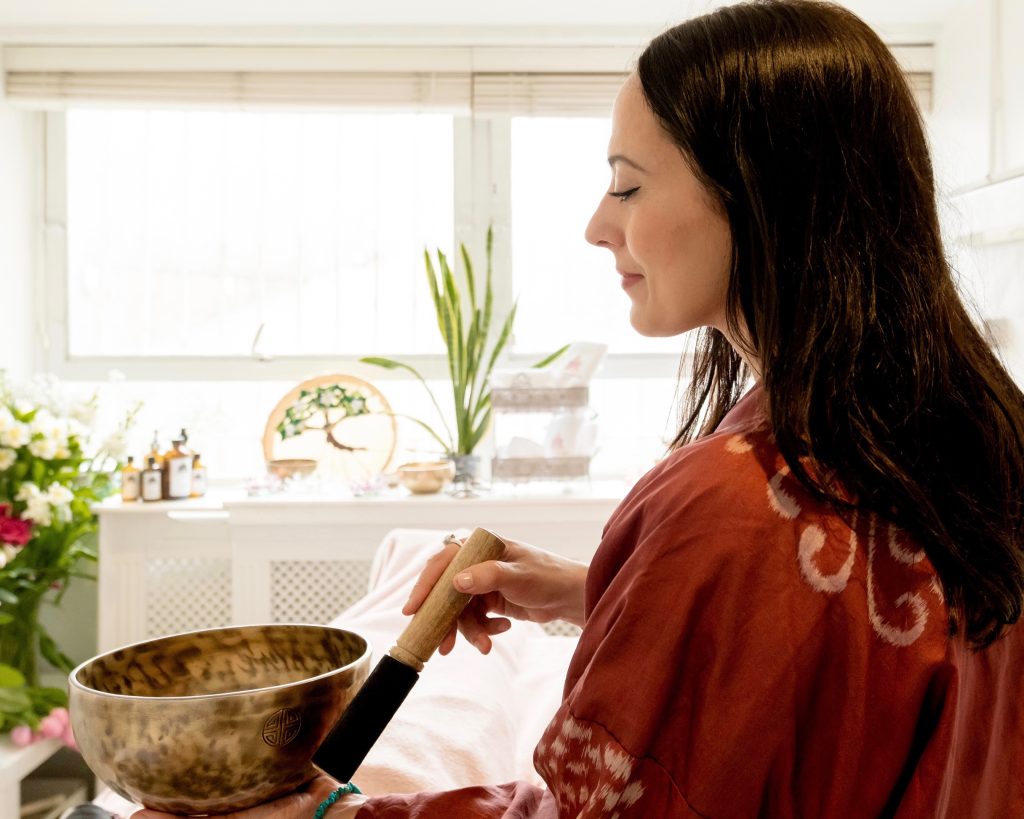 What to Expect
Starting with an assessment to identify whether any of your doshas (bio-energetic forces in the body) are out of balance and preventing your body from reaching optimal health, I then blend a unique oil for your massage session, specially created for you and your unique healing experience. The herbs, spices and essential oils have been carefully formulated to specifically target your doshic imbalance.
The massage is carried out with anatomical knowledge from a branch of research perfected by Vedic physicians utilising the awareness and power of ancient energetic pressure points. It releases toxins and trapped and stagnant energy in your body, restoring energy flow and promoting focus and healing. The body and mind is gently allowed to relax and return to balance.
My beloved grandmother, from India- where Ayurveda has its origins- used to say that these are the only massages worth having for longevity and health. She lived a healthy, happy life for over one hundred years. Do come and experience a relaxing and restorative session for yourself.
Abhyanga Full Body Massage
10 minute consultation + 1 hour and 30 mins treatment = £95
An ancient, relaxing, deeply blissful and restorative therapy designed to bring balance to the body by applying pressure to specific marma (meridian) points on the body. Releasing, unblocking and clearing, the massage reawakens the healthy flow of energy through the body's junctions and nadis, or pathways and channels. The back, chest, arms, legs, hands and feet are all worked on and delivery is personalised according to your needs. Good for detoxification, relaxation, chronic fatigue, anxiety, insomnia and nourishment of the skin and joints.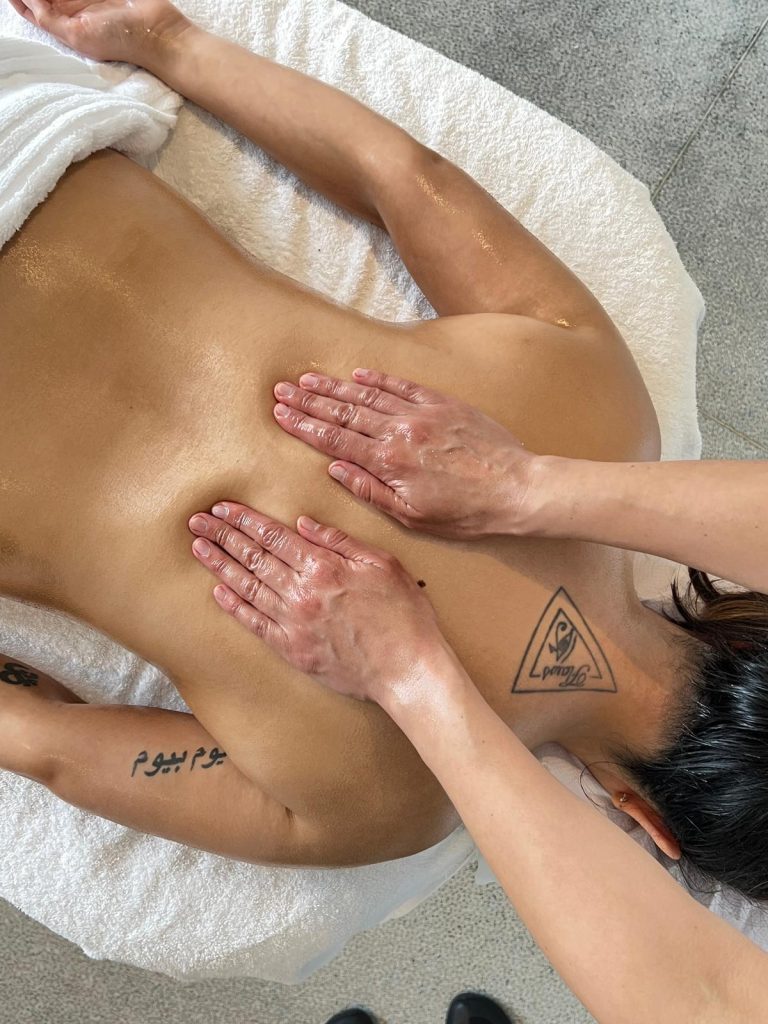 Ayurvedic Back Massage
10 minute consultation + 30 mins treatment = £ 55 – option to combine with face massage for £75 pounds for an hour.
Peethabhyanga ( back massage) is a combination of pressure techniques and the rhythmic application of warming oils to improve circulation and blood supply to every part of the body. Working with ten marma (vital) points on the back to increase energy flow. Excellent for muscle tension, back ache and nourishment to the tissues.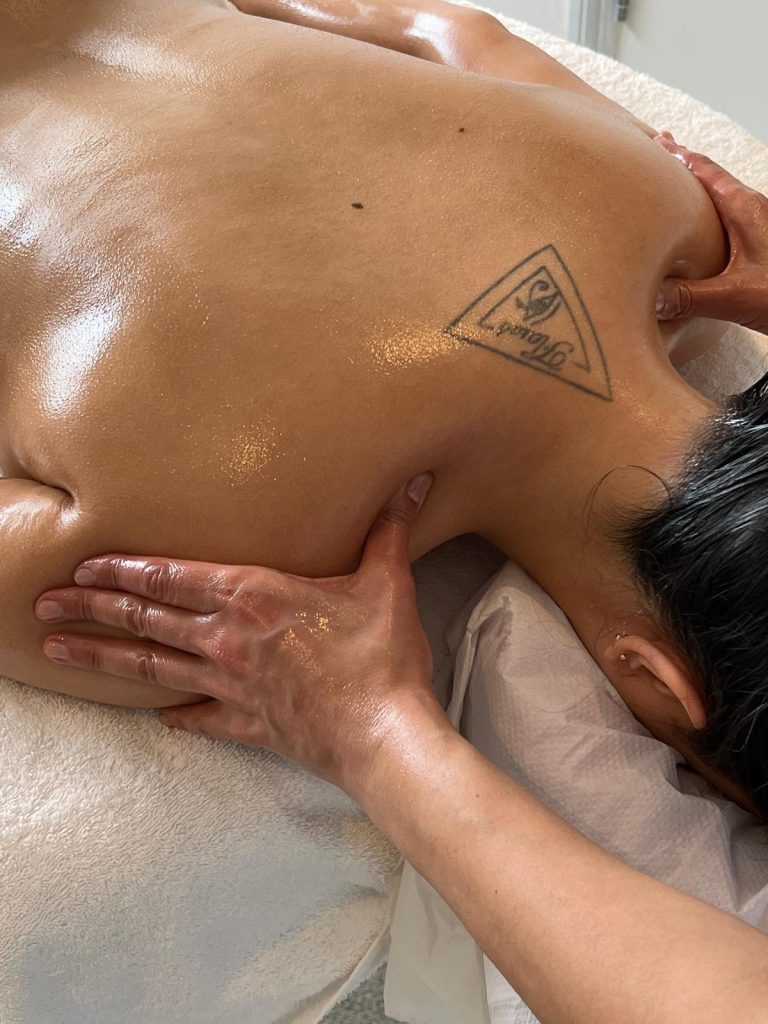 Ayurvedic Face Massage
10 minute consultation + 45 mins = £50
Mukhabhyanga is an ancient procedure that will have you smiling with a visible natural face lift. Working on the face, neck and head it is a remedial therapy where firm pressure lifts facial muscles leaving a youthful glow that is the result of regular treatment. Massage to marma points increases energy flow and is also beneficial for problem lines. Good for physical and mental wellness and anti-ageing (you'll glow after just one, but best taken as a course of six).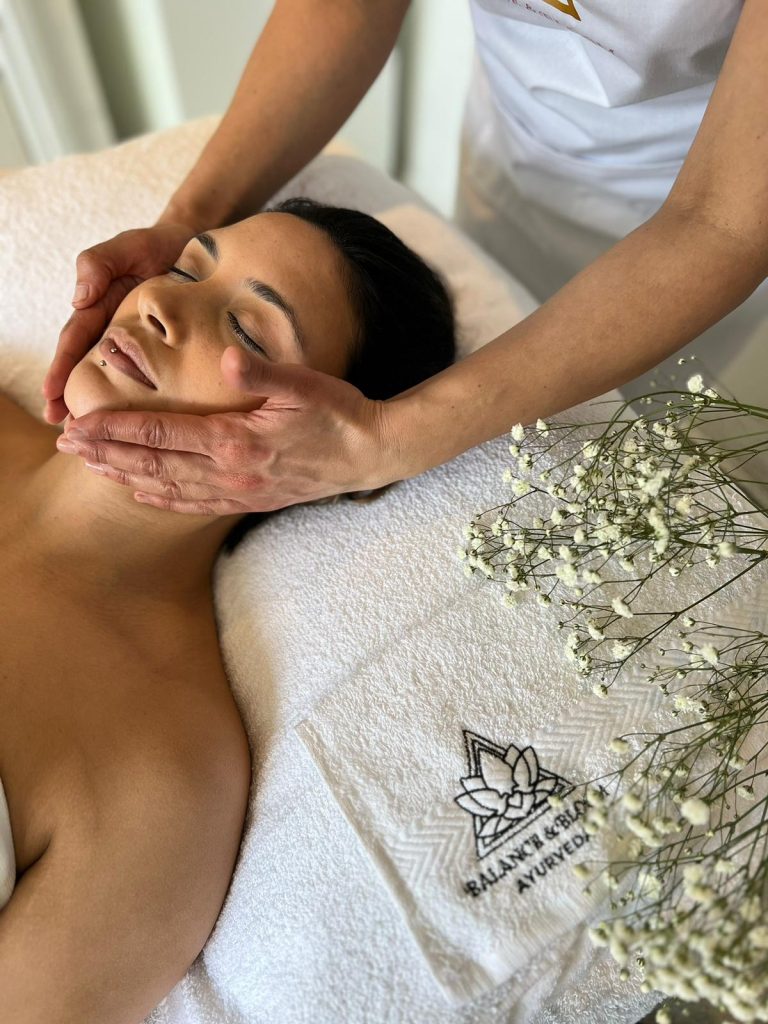 Lower Leg And Foot Massage
30 mins = £65
A de-stressing and relaxing traditional Ayurvedic foot treatment which starts with firm massage of the lower leg followed by manipulating the marma (vital) points on the sole of the foot using deep pressure techniques. Good for tired legs, after a flight, relaxation and blood circulation.
Head, Neck And Shoulder Massage
10 minute consultation + 45 mins = £65
Shirobhyanga is a detoxifying head, neck and arm massage that has been used in India for centuries. A relaxing massage that releases muscular tension and stress from the area. The treatment nourishes the scalp promoting hair growth. Good for stress, strain, migraine and hair condition.
Chakra Balancing Sound therapy
£45 for an hour single session, or £38 each when block-booking 6 sessions – Special offer £35 per hour if you book in June and July!
These sessions of sound therapy allows you to reach a meditative deep rest brainwave state where your body can restore balance. It is great for reducing feelings of stress and anxiety, promoting deeper sleep, improving levels of concentration and increasing energy levels. It can release old emotional traumas, help us let go of subconscious programming and help alleviate physical pain.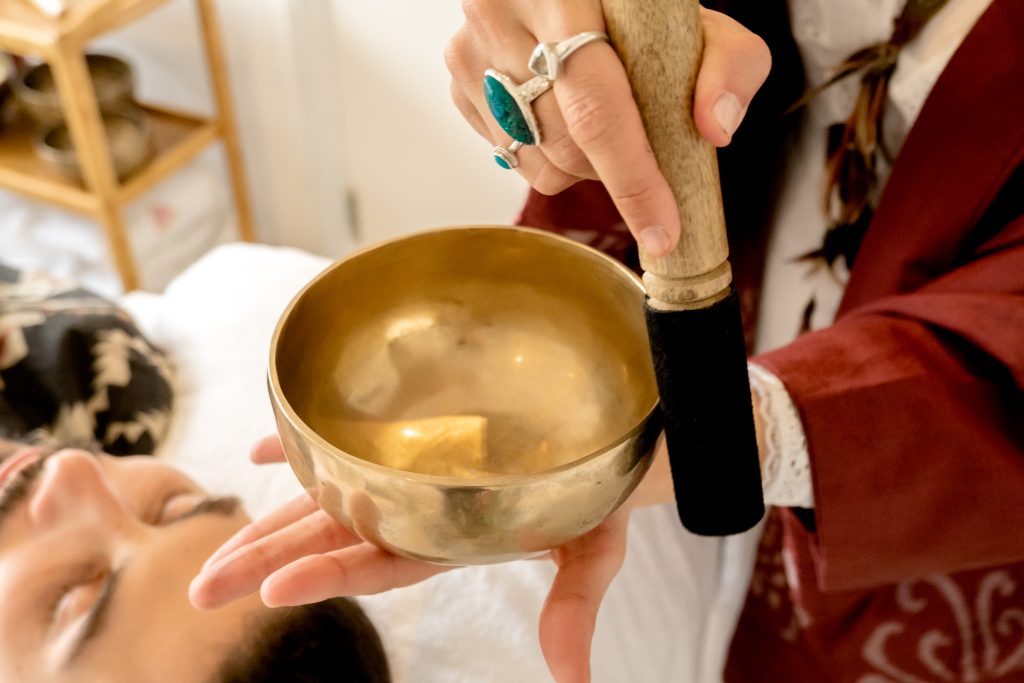 Shirodara
65 pounds for one hour non karma card, or 60 with karma card.
A beautiful and deeply relaxing treatment used in Ayurvedic medicine that begins with a head massage. Then warm oil is poured on to the forehead in a continuous stream. It is used in Ayurveda to calm and soothe the mind and reduce anxiety, insomnia and to interrupt restless thoughts. It reduces mental wastes and encourages a state of meditation. It calms the nervous system and leaves you feeling less stressed. N.b good for fluctuating anxiety and depression but is so calming that it is not recommended if feeling deep depression combined with weight gain.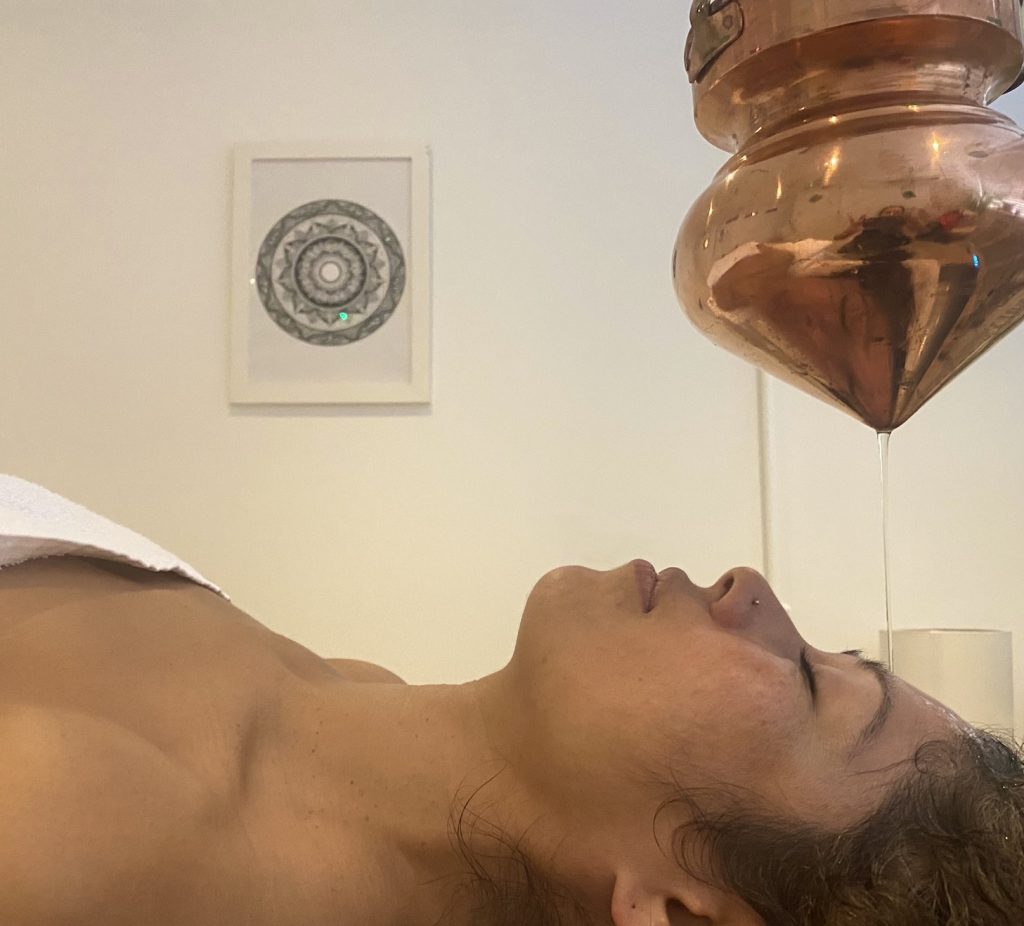 Shirodara and sound
75 minutes- 75 pounds. 70 with karma card.
A relaxing treatment and the only one of its kind in the UK. A unique experience not to be missed! It's a great gift for you, or loved ones! Warm oil is poured on to the forehead while you are softly sang to, then invited to bathe in the beautiful vibrations of Tibetan bowls and gentle sacred drumming. Shirodara is an ancient technique designed to reduce mental wastes like anxiety, it allows you to calm down the mind and let go of what is no longer serving you. Great for insomnia and circulating thoughts. Sound therapy changes your brainwave state to meditation and deep rest.